-The Provo Temple is the 15th dedicated temple in operation. The Provo Temple is scheduled to close following the dedication of the Orem Utah Temple. A new Provo Temple will be built in it's place.
- For 75 years the Logan, Manti and Salt Lake Temples were the only operating temples in Northern Utah and in 1967 the Provo and the Ogden Temples were announced. It was very exciting!
-Through the 1960s, BYU enrollment expanded and Church membership grew— around 52% of all temple ordinances were performed in the Logan, Manti and Salt Lake temples, even though there were nine other temples throughout the world. (The St. George Utah Temple, Laie Hawaii Temple, Cardston Alberta Temple, Mesa Arizona Temple, Idaho Falls Idaho Temple, Bern Switzerland, Los Angeles California, Hamilton New Zealand, London England).
-President Joseph Fielding Smith wrote the dedicatory prayer and it was read by Harold B. Lee on February 9, 1972.
-It wasn't until 31 years after the Provo Temple was built that it received an Angel Moroni, in 2003. The spire on the Provo Temple was originally gold, and was changed to white when they put the Angel Moroni statue on top.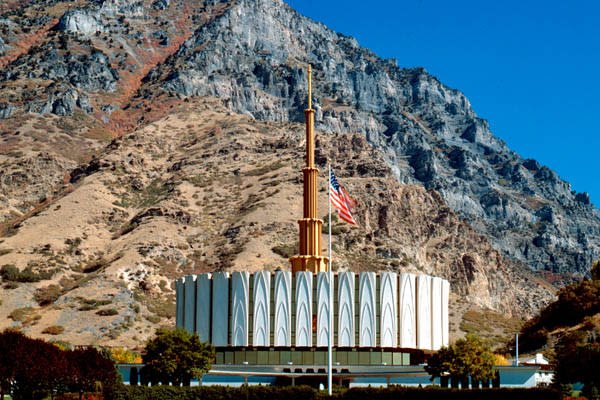 -Emil B. Fetzer was the architect for both the Ogden and the Provo Temple. He designed the temple after the verse Exodus 13:21 "And the Lord went before them by day in a pillar of a cloud, to lead them the way; and by night in a pillar of fire, to give them light; to go by day and night."
-Provo Utah Temple architect Emil B. Fetzer also designed the Ogden Utah, São Paolo Brazil, Tokyo Japan, Seattle Washington, Jordan River, Atlanta Georgia, Nuku'alofa Tonga, Santiago Chile, Mexico City Mexico, Sydney Australia, and Freiberg Germany Temples. All of Fetzer's temples were designed with single spires.
-The design of the Provo Temple was for maximum efficiency with six ordinance rooms surround and open to the celestial room at the center of the temple. It was designed to accommodate the largest number of patrons. Sessions could start every 20 minutes accommodating more patrons each day than any other temple in operation!
-Having both the Ogden and the Provo Temples have nearly identical design kept construction costs lower. (The Ogden Temple was re-done in 2010)
-Since the dedication of the Provo Temple it has been one of the Churches busiest temples in the world! During its first full year 17.7% of all temples ordinances performed were done in the Provo Temple. The Provo Temple led the Church in total number of endowments performed for the dead, even when subtracting BYU students and MTC missionaries. It's pretty awesome!
Sources:
https://www.heraldextra.com/news/faith/2022/feb/09/lds-church-celebrates-provo-utah-temples-50th-anniversary-remodel-coming/
https://kids.kiddle.co/Provo_Utah_Temple
https://www.deseret.com/2003/5/13/19721848/flying-high-moroni-tops-provo-temple
"Temples of the New Millennium" by Chad Hawkins