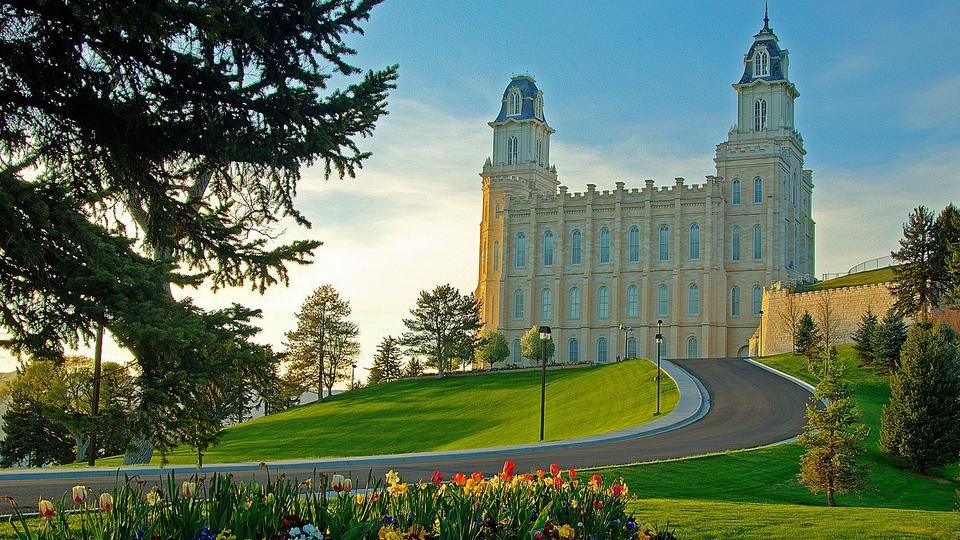 -The groundbreaking ceremony for the Manti Temple happened in 1877 by Brigham Young.
-On a morning of April 25, 1877 Brigham Young and Elder Warren S. Snow were out on temple hill and Warren Snow recorded "We two were alone: President Young took me to the spot where the Temple was to stand; we went to the southeast corner, and President Young said; 'Here is the spot where the prophet Moroni stood and dedicated this piece of land for a Temple site, and this is the reason why the location is made here, we can't move it from this spot; and if you and I are the only person that come here at high noon today, we will dedicate this ground.'"
-The Manti Temple is known as the "Jeweled Crown"
-The Manti Temple is the only Temple dedicated by President Lorenzo Snow.
-The groundbreaking ceremony for the Manti Temple was held a month before the groundbreaking for the Logan Temple this marked the first time ever there were two temples groundbreakings in the same year!
-The Manti Temple was built on a rattlesnake infested quarry. The stones in the quarry are the same stones used on the outside of the temple.
-The Manti Temple has beautiful pioneer crafted stairwells that go up five stories. There is no central support column for the stairwells. No joints can be felt due to the expert craftsmanship and are considered and engineering marvel! In the whole United States there are only three staircases of this size and two of the three are in the Manti Temple! After 100 years the temple staircases were inspected and they were found in perfect condition!
-In the 11 years of temple construction (1877-1888), not one person died of injuries incurred while working on the building. In fact, Edward L. Parry(the master mason of the temple) dreamed one night of a worker falling to his death, so he arose and went to check on the scaffolding. He found a loose rope, which he tightened — thus preventing certain injury.
-The timber for the temple came from four sawmills in the area, the best cut down from the nearby woods known as Hell's Kitchen. The timber grew so straight that the Saints could cut poles 60 to 75 feet long.
-One interesting thing is the the symbolism in the door catches, hinges and knobs created by John Patrick Reid — later interpreted by his grandson, Hugh W. Nibley, to represent, among other things, eternal life.
-The temple's water source is also noteworthy. Originally, all the water came from a small spring near the temple. Through the years, as the need for water has increased, the spring's production has also miraculously increased! How amazing is that?!
Sources:
"Temples of the New Millennium" by Chad Hawkins pg. 8-9
https://churchofjesuschristtemples.org/manti-utah-temple/#:~:text=Temple%20History,as%20the%20Manti%20Stone%20Quarry.
https://www.deseret.com/2009/4/9/20311538/spirit-level-helped-workers-build-unique-manti-temple