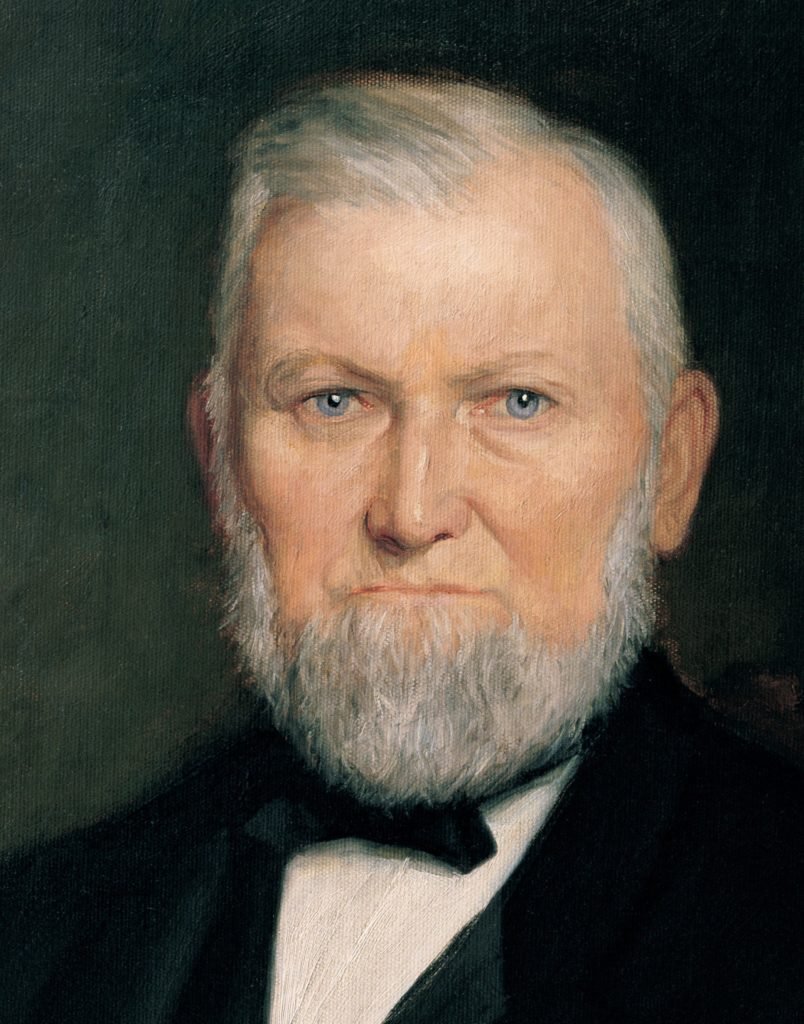 In 1807 Wilford Woodruff was born in Avon Connecticut to Aphek and and Beulah Woodruff.(Birthplace Marker)
When Wilford Woodruff was only eighteen months old his mother passed away from Spotted Fever. She was only twenty six years old. He had seven brothers and one sister. His father was a miller. He would grind wheat to flour and Wilford Woodruff followed in his father footsteps and became a trained miller.
Wilford Woodruff was baptized on December 31, 1833 at the age of 26. He was baptized in Richland New York in an icy stream. Four months after his baptism he met the Prophet Joseph Smith.
Wilford was a member of Zions Camp, a group of militia men formed to help the Saints who had been chased from their homes.
Wilford hadn't even been a member for a year when he was called and left on a mission to the Southern United Sates. He served from 1834-1836.
In 1837 Wilford married Phoebe Carter on April 13, 1837 when he was 30 years old.
In 1839 Wilford was called to the apostleship and was ordained by Brigham Young on April 26th, when he was only 32 years old.
Wilford Woodruff was asked to practice the polygamy and he married five women. He was the father of thirty-three children. One wife and thirteen of his children passed away before him.
Wilford served a mission to Great Britain, then to eastern United States, and then served as a president to the European Mission until 1846.
Wilford Woodruff was one of the greatest missionaries of the restored Gospel. Wilford Woodruff baptized more than 2,000 people!
When Wilford Woodruff was 40 years old he entered the Great Salt Lake Valley with Brigham Young on July 24, 1847.
Wilford Woodruff has one of the best journals of Church history. Writing in his journal was one of his favorite past times. He is responsible for writing many volumes of Church History.
At age 80 Wilford led the Church of Jesus Christ of Latter-Day Saints at the death of John Taylor on July 25, 1887.
Wilford was sustained as the Prophet of the Church when he was 82. He kept the counselors George Q. Cannon and Joseph F. Smith.
Wilford Woodruff became President of The Church of Jesus Christ of Latter-Day Saints during a time of great persecution on the Saints due to Polygamy. Wilford spent much time on his knees begging Heavenly Father for guidance on what he should do. He was shown what would happen to the Saints, if the practice of Polygamy was not ended. In 1890 Wilford Woodruff issued Manifesto to discontinue the practice of plural marriage. On September 24, 1890 Wilford Woodruff was 83 years old, when plural marriage was discontinued.
1888 Wilford Woodruff dedicated the Manti Temple on May 17.
Wilford Woodruff started weekly religious education classes, that later became the Seminary Program for the Church.
Wilford Woodruff was 86 years old when he dedicated the Salt Lake City Temple on April 6, 1893.
Wilford Woodruff gave Bishops and Stake Presidents authority to issue Temple recommends, which was only done by the Prophet.
During Wilford Woodruff's presidency he also changed Fast Sunday. Before President Woodruff Fast Sunday was on the first Thursday of the month and he changed it Sunday, as we know it today.
Wilford Woodruff died in 1898 when he was 91 years old. He passed away in San Francisco, California after being prophet of The Church of Jesus Christ of Latter-Day Saints for nine years. He is buried in the Salt Lake City Cemetery.
More Blog Posts
Wilford Woodruff's Birthplace Marker and his Connection to the Hartford Connecticut Temple
Kirtland Era and Future Prophets
Christopher Columbus Quotes by LDS Leaders
Polygamy and the Church of Jesus Christ of Latter-Day Saints
Fun Facts about the Salt Lake Temple-(Closed for Renovation-reopening date 2025)
Founding Fathers and the St. George Temple
Waiting upon the Lord, Prophesy of the Snowflake, Arizona Temple
Places to Visit
Wilford Woodruff's Birthplace marker (here)
Historic Kirtland Ohio
Salt Lake City Cemetery