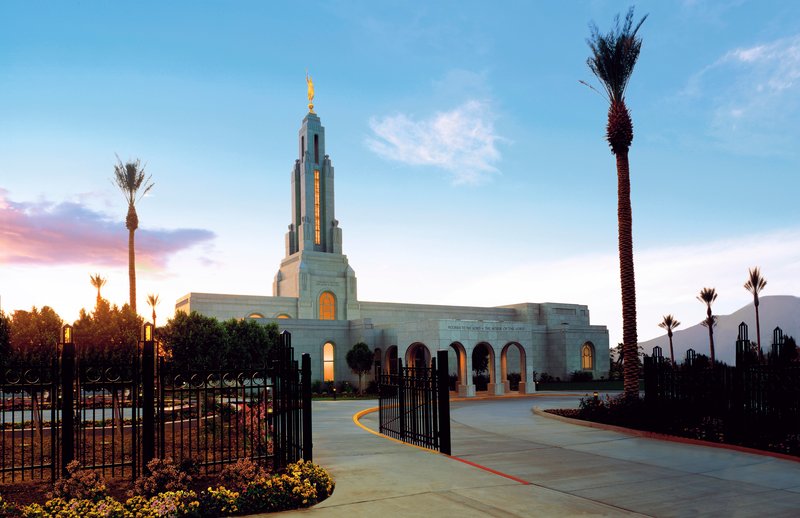 The Redlands California Temple is the 116th operating temple of The Church of Jesus Christ of Latter-Day Saints.
The Redlands California Temple was announced the same day as the Newport Beach Temple and the Sacramento California temples.
The Redlands California Temple was dedicated September 14, 2003 by President Gordon B. Hinckley. It is 17,000 square feet.
The Redland California Temple is built on Pioneer land. In 1851 Latter-Day Saint settlers and members of the "Mormon Battalion" purchased 35,000 acres of land of Rancho San Bernardino. The Temple is within those 35,000 acres originally purchased by pioneers.
The Redlands Mayor said: "The Pioneers made contributions important to this day. . . They built houses, opened businesses, and laid out streets and greatly expanded irrigation and farming, so for the temple to be built here is something of a coming-home experience."
Redland California has large earthquakes. When constructing the Redlands California Temple they brought in 14 large cement trucks to pour 135 cubic yards of concrete supporting the temples tower. Elder Quinn said "From an engineering standpoint, the base of the tower is something amazing. . . The massive reinforced concrete foundation and walls create a building with a seismic rating designed to withstand two levels above the largest earthquake ever recorded in California. There has never been a recorded earthquake in California that would even touch this structure. Redland's city inspectors were so impressed with our building that they used photos and data from this building to show other contractors how they should build."
A fun historic piece of art is behind the reception desk of the Redlands Temple. It is a beautiful art glass panel that was once part of the San Bernardino meetinghouse which was built in 1930! This piece of art features the First Vision in stained glass. Members of the area kept the window after the sale of the property and used it in chapel. It was brought to the attention of the designer of the Temple, George Hill and he added it to the temple as the lobby!
Over 15,000 people donated rocks needed for the temple construction. Some of the rocks were gathered from the 1852 Pioneer site called the Glen Helen Regional Park in Devore.
The Primary children of the area donated pennies to help fund the palm trees that circle the temple.
The Redlands Temple was built on an Orange Grove and for the dedication they served the visitors orange juice made from the trees that were removed from the temple site.
More Blog Posts:
Oakland California Temple Information
Fun Facts on San Diego California Temple
Los Angeles California Temple Fun Facts
Fun Facts about the Sacramento Temple
References:
"Temples of the New Millennium" by Chad S. Hawkins
https://churchofjesuschristtemples.org/redlands-california-temple/