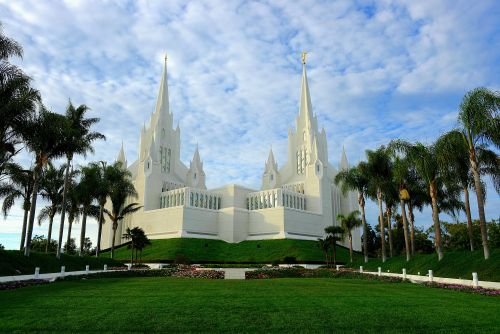 The San Diego California Temple is the 45th dedicated temple of The Church of Jesus Christ of Latter-Day Saints in operation.
The San Diego Temple is the third Temple built in California, following the Los Angeles Temple and the Oakland Temple.
The San Diego Temple is built right off the freeway and is a well known landmark for the people in San Diego.
The architects of the San Diego Temple, Dennis and Shelly Hyndman said they "wanted to create a vertical scheme to symbolize an ascension toward heaven." They accomplished this by using darker colors at the bottom of the Temple and lighters colors as they go up through the wall colors and the carpet colors. They got this idea from the Salt Lake Temple and the Washington D.C. Temple. The Hyndman's are not members of the Church, but are Roman Catholics and could not tour other temples prior to designing the San Diego Temple, but they were able to go through the Las Vegas Temple prior to its dedication.
The Exterior of the Temple is made from marble chips in plaster.
The San Diego Temple is 72,000 square feet and is 200 feet tall.
The groundbreaking was done by President Ezra Taft Benson on February 27, 1988. The groundbreaking happened soon after the prophet had a heart attack and they did not thing he would be able to come to the groundbreaking.
The Saints in Southern California and the Saints in Northern Mexico contributed to the building of the San Diego Temple. The California Saints helped with landscaping. The primary children helped care for and water the plants. The primary children in Mexico made handcrafted rug for the First Presidency to stand on as they laid the cornerstone(how cute is that?!). A microfiche with the names of the Primary children in the temple district was later placed in the cornerstone.
The Prophet Ezra Taft Benson was not able to dedicate the Temple because of his failing health and he sent Gordon B. Hinckley to dedicate the Temple on April 25-30 1993.
When the Angle Moroni statue was being placed on the top of the temple on December 23, 1991 a flock of seagulls, (a bird of symbolic importance in the Church) circled the new Angel Moroni three times and then continued on their way.
Other Blog Posts:
Oakland California Temple Information
Los Angeles California Temple Fun Facts
Other Places to Visit:
Mormon Battalion Visitors Center
References:
https://churchofjesuschristtemples.org/san-diego-california-temple/
"Temples of the New Millennium" by Chad S. Hawkins (p.92-93)