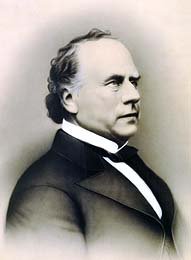 One of the best things about Nauvoo is seeing the connection to the Church in modern day, and the Church in Nauvoo. The Saints in Nauvoo recognized their sacrifices were for their children and their children's children, and they built a foundation to last generations. One of these foundations built was the Nauvoo citizen, Ezra T. Benson.
Ezra T. Benson's home site is two blocks north of Parley Street on the SW corner lot of block 52 and on the NW corner of Munson and Fulmer Streets. He owned the whole one-acre lot.
Ezra was born in 1811 in Massachusetts he married Pamelia Andrus in 1832 and they had eight children. He was baptized in Quincy Illinois in 1840 and moved to Nauvoo in 1841.
Ezra was ordained an apostle in 1846, taking the place of John E. Page. He was a member of the original pioneer company in 1847, there were only 148 settlers.
Ezra died in Ogden Utah and is buried in the Logan City Cemetery.
Ezra's great-grandson, Ezra Taft Benson became the 13 President of The Church of Jesus Christ of Latter-day Saints.
More Nauvoo Sites
Importance of the Red Brick Store, Nauvoo Illinois
Women's Garden Nauvoo Illinois
John Taylor Home, Nauvoo Illinois
References:
"Sacred Places Ohio and Illinois" by LaMar C. Berrett Keith W. Perkins and Donald Q. Cannon p. 191