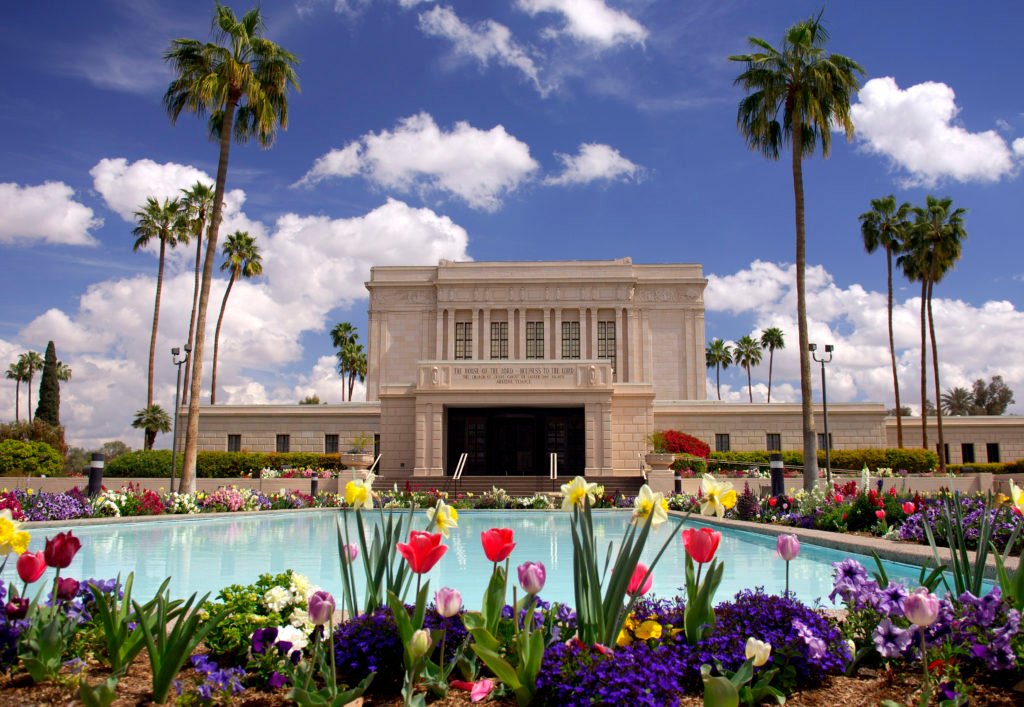 The Mesa Arizona Temple is located just east of the the Mesa Townsite which was settled by Latter-Day Saints Pioneers in the 1870's.
The Mesa Arizona Temple is the first temple built in Arizona and was heavily influenced by the construction of the Cardston Alberta Temple and the Laie Hawaii Temple.
President Heber J. Grant selected the Mesa Arizona Temple site on February 1, 1920. Mesa was an ideal location of the temple because it was central to Latter-Day Saint settlements in Arizona, California and Mexico.
The Mesa Temple was dedicated October 23-26 1927 and is the seventh dedicated temple in operation. It is 113,916 square feet and is made of concrete reinforced with steel.
On each corner of the Mesa Temple are sculpted friezes by a man named Torlief Knaphus. The friezes were based on sketches done by A.B. Write. On the North end of the temple the sculptures depicts the gathering of the elect in the Old World. On the south end the sculptures represent the gathering in the Americas and the Pacific.
The architects chosen for the Mesa Arizona Temple had recently designed the Utah Capitol Building.
The Mesa Arizona Temple was the first temple to present the endowment in a language other than English. (The first non-English session was presented in Spanish in 1945.)
For many years the Mesa Arizona Temple has been considered the temple of the Lamanites. The original temple district encompassed areas of the Navajo tribe.
On Easter morning in 1938 the youth from the Maricopa Stake presented a sunrise service on temple grounds. A narrative and choir numbers recount the story of Christs life. This has become an annual event and it now includes 400 cast members and they perform for people who have gathered from all over the world.
The Mesa Temple also holds the Christmas Garden Festival and includes a nativity scene with accounts of the Saviors birth.
More Blog Posts
Phoenix Arizona Temple Fun Facts
Waiting upon the Lord, Prophesy of the Snowflake, Arizona Temple