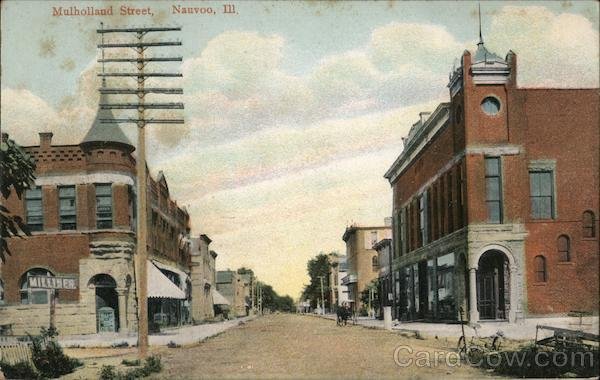 Everywhere in Nauvoo there stories and histories to be uncovered and shared. The whole town still feels like it is a story book town, there have not been a lot of changes from when the Saints were living in Nauvoo, and it all makes it feel like you are in history. Another one of those important historical locations is the principle business street of Nauvoo, Mulholland Street.
Mulholland Street was named after James Mulholland, Joseph Smith's scribe. James Mulholland helped write the History of the Church. James Mulholland died at the young age of 35 on November 3, 1839.
Joseph Smith's Body Returned to Nauvoo
On June 28, 1844 the bodies of the Prophet Joseph Smith and his brother Hyrum arrived in Nauvoo. The bodies of the two men were met by a great assembly of Saints on the east side of the Temple on Mulholland Street, around 3 PM in the afternoon.
Willard Richards, Samuel Smith, Artois Hamilton and eight soldiers of the Nauvoo Legion let the group as a heavy sadness hung over the whole city.
Battle of Nauvoo
The Battle of Nauvoo took place on the eastern portion of Mulholland Street, about a half a mile from the temple.
The Battle of Nauvoo was a final push to get all the Latter-day Saints out of Nauvoo. After the death of Joseph Smith the Saints were under pressure to leave Nauvoo. Brigham Young led the majority of the Saints out of Nauvoo and the Saints who were left in Nauvoo were too poor, or without provisions enough to leave.
When the majority of the Saints had fled, the rest of the Saints had to leave within 60 days and surrender their arms. This still did not satisfy the mob. Thomas S. Brockman, a Campbellite preacher and 1,000 men armed with six cannons were located within "cannon shot" south of Mulholland Street. About 200 Nauvoo citizens armed with homemade cannons were lined up on North Mulholland Street. During the battle three Latter-day Saints were killed along with a dozen or so of Brockman's men.
Nauvoo citizens were forced to sign a peace treaty and on the 16 and 17th of September a drunken mob entered Nauvoo and forced the remaining Saints to leave on ferries at "the point of the bayonet." Within the next couple days the Saints had left Nauvoo, and set up tents along Sugar Creek Iowa, and waited for help from the Saints who had left before. These poor group of Saints had nine babies born in one night and were fed by quails in the "Miracle of the Quail."
One in the group, last to leave Nauvoo was Mary Fielding Smith, the widow of Hyrum Smith. Still coming to grips with the loss of her husband, she had to prepare to leave to the unknown new land with only her young children. More of her story here.
More Blog Posts
Mary Fielding Smith's race to Salt Lake Valley
Get to know Prophet Joseph F. Smith
Women's Garden Nauvoo Illinois
p 186 Nauvoo Travel book