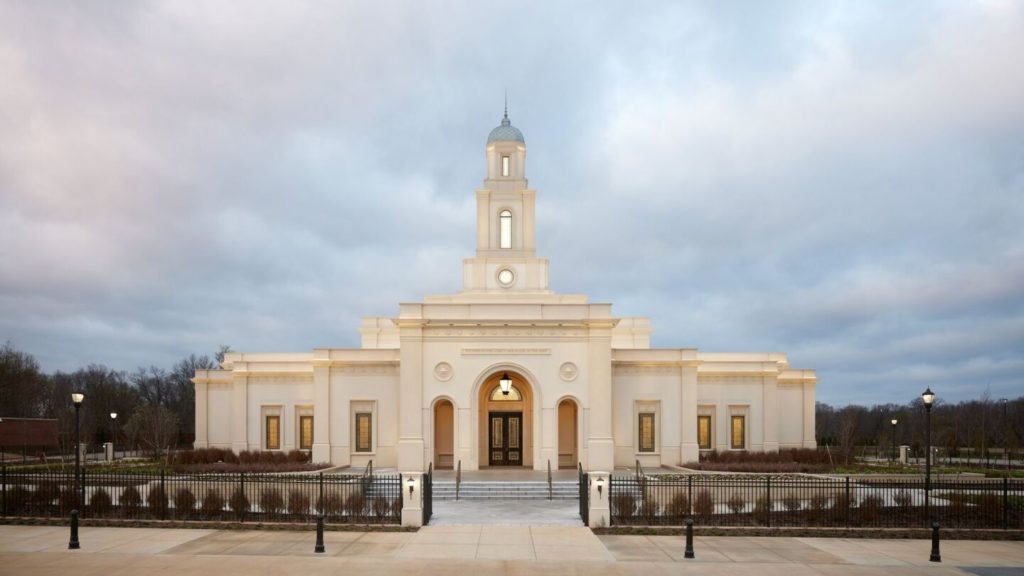 The Bentonville Arkansas Temple was announced by President Nelson in 2019.
The groundbreaking ceremony was done November 7, 2020. Elder Bednar presided at a remote location due to the pandemic.
The dedication of the Bentonville Temple was also done by Elder David A. Bednar. Elder Bednar was once a professor at the University of Arkansas. Elder Bednar assisted in the oragnization of the two Arkansas sakes including the Bentonville Stake.
The primary designs of the art glass include the dogwood blossom, one of the first spring flowers in the area. The dogwood blossom and tree is tied to the crucifixtion of the Savior, Jesus Christ. The Dogwood tree is said to carry the marks of Jesus's crucifixion. Its four large petals represent the cross he died upon, and each petal displays four red-tinged notches that are said to represent four nail holes.
A fun design on the Bentonville Arkansas Temple are the sunbursts and diamond designs. These designs are recognizing Arkansas as home to the only diamond mine in the United States. 
The colors on the temple are red, yellow, and blue patterns which are reminiscent of a quilt, speaking to Bentonville's small-town American heritage.
Wilford Woodruff and Henry Brown were the first missionaries of The Church of Jesus Christ of Latter-day Saints to arrive in Arkansas. The missionaries came from Clay County Missouri on January 28, 1835. Jonathan Hubble and his wife were the first Arkansas converts. They were baptized on February 22, 1835.
For many years the members from Arkansas joined the main body of the Church, but in 1914, a small branch was organized in Barney, Faulkner County. The branch had over 100 members who had gathered to the city from the northern half of the state. Descendants of those early members still worship in local Latter-day Saint congregations today!
The first Stake in Arkansas was organized in Fort Smith in 1978. Then, the next Stake was the Rogers Arkansas Stake which was formed in 1991, and David A. Bednar, who currently serves as a member of the Quorum of the Twelve Apostles for the Church, was called as its first stake president. 
"It is a miracle of remarkable proportions," said Elder Bednar about the region. "... To have seen the hand of the Lord guiding this kind of growth and strength in the Church over such a short period of time is remarkable." This rapid growth eventually led to a house of the Lord.
More Posts
Fun facts about the Kansas City, Missouri Temple
Angels Ministering, Cardston Alberta Temple
Far West Temple Site Apostles Prophecy
References:
https://www.thechurchnews.com/almanac/temples/bentonville-arkansas
https://churchofjesuschristtemples.org/bentonville-arkansas-temple/