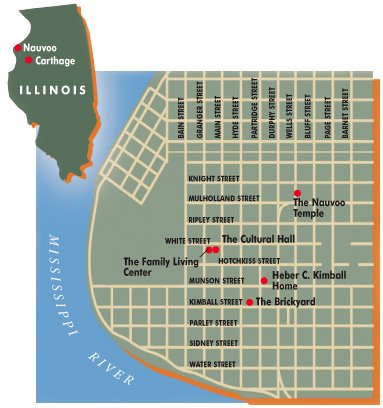 The city of Nauvoo is one of the most important historical locations in the history of The Church of Jesus Christ of Latter-Day Saints. Nauvoo is a special location for member of the Church because it was the last city the Prophet Joseph Smith lived in before he died, it was a city designed by the prophet Joseph Smith, it was a beautiful city built by faithful pioneers. The Latter-Day Saint pioneers left their homes in Nauvoo and battled the journey to Utah when they were run out of the city by persecutors.
The Church of Jesus Christ of Latter-Day Saints has done so much for visitors of Nauvoo. The city does feel like it could have been similar when the prophet Joseph lived there. Many pioneer homes have been restored and re-built, ready for the public to tour and enjoy. Each tour is done by educated young and old missionaries throughout the day.
The historic Nauvoo experience is worth the work it takes to get to this beautiful city, but there are some important things you should know before you go!
Nauvoo, Know Before you Go
Plan on staying in Nauvoo at least two days, three would have been better. There is a lot to do, and one day is not enough to see everything.
Food. Don't plan on many restaurant option in Nauvoo. There are only two places to eat in the whole city. There is no real grocery stores, they do have a dollar general but plan accordingly. Make sure you plan your own food, prior to your trip, or plan on eating at the burger place, or the ice cream/waffle shop.
Download the Nauvoo app from the App Store before your trip. It's hard to know where to start and what to do first when you get to Nauvoo, the app should simplify and educate you on what is owing on and things to do. They have the information on all the shows, and activities around town, it is a good resource.
If you plan on going to the temple, do your best to get an appointment, it makes it easier, but the temple does accept 'walk-ins'. Getting to the temple early in the morning helped our family get through. There are many tour busses and they come all day long, so try to get to the temple early, and beat the crowds.
Make sure to go to BOTH the Nauvoo Pageat and the British Pageant shows at night. Both shows are done very well, we had more in our family that enjoyed the British Show, although they are both very good.
Save seats at the Pegeant shows early, they allow people to have seats starting at 2:00, and because there are many tour groups, try to get there and save your seats around that time. The large tour groups are pretty fast at saving their seats.
More Blog Posts
Smith Family Cemetery, Nauvoo Illinois
10 Fun Facts about the rebuilt Nauvoo, Illinois Temple