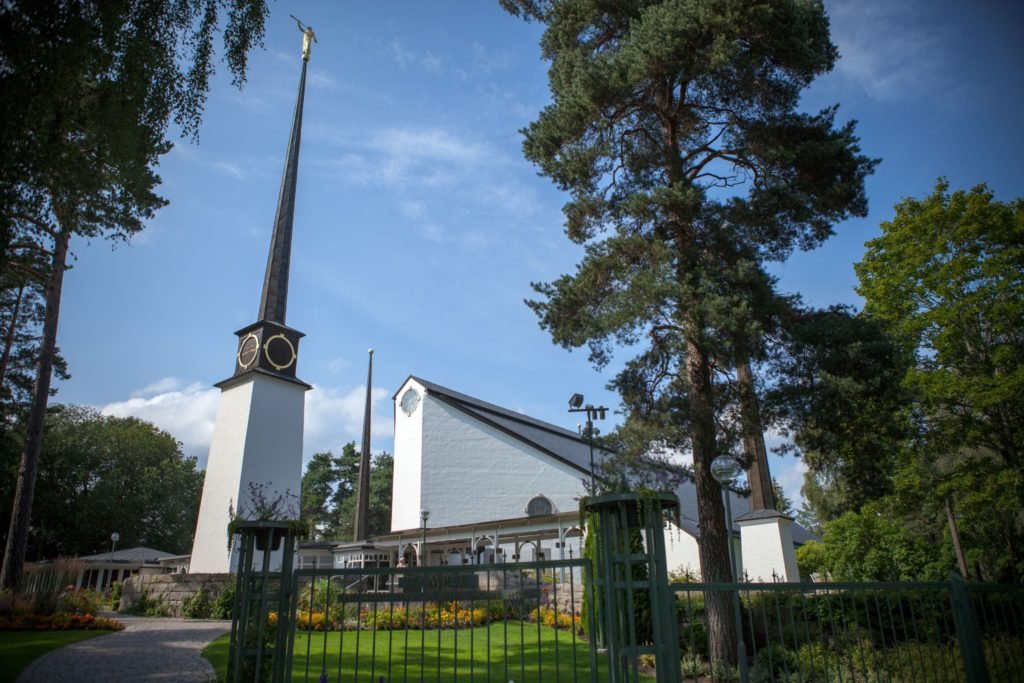 The Stockholm Sweden Temple changed the Latter-Day work in Europe. When the Sweden Temple was built it put pressure on the Communist government in Germany to allow the Saints behind the Iron Curtain to receive their Temple sealings and blessings. The Eastern German Government did not allow the Saints to leave East German Saints to leave but did allow the Church to build a Temple in East Germany, all this was from the building of the Stockholm Sweden Temple!
In 1973, President Spencer W. Kimball asked for the Saints to pray that all nations would be opened to missionary work, including those behind the Iron Curtain. In 1989 the Iron Curtain began to fall that is when members in Russia, Hungary, Poland and Baltic States began preparing to fo to the temple in Sweden.
The Stockholm Sweden Temple groundbreaking was done by Thomas S. Monson on March 17, 1984 and it was dedicated by Gordon B. Hinckley on July 2-4 1985.
The Stockholm Sweden Temple was the fourth temple built in Europe and the first built in Scandinavia.
More than 400 people gathered fro the groundbreaking of the Stockholm Sweden Temple. The ice had to be broken. A torch was used to cut though the ice so the earth could be turned, but it froze overnight again. The ice had to be cleared a second time for the groundbreaking.
At the groundbreaking of the Stockholm Temple Thomas S. Monson said "On this cold morning you have warm smiles on your faces and warm feelings in your hearts, for it is a day of thanksgiving." Many members in Sweden describe the occasion as 'a new day in Sweden.' The same phrase used by Thomas S. Monson when he dedicated and rededicated the country on July 8, 1977.
When construction began on the Stockholm Temple they discovered an ancient Viking burial site. Dating back 2,000 years. The temple construction was delayed for three years and they found seventeen graves of different sizes. The oldest one dated back to 700 BC. In the surrounding area of the Temple there are approximately 200 graves, and the youngest dates around 400 AD.
In the Stockholm Sweden Temple, the sessions are often conducted in nine different languages, and sometimes more! Patrons of the Swedish Temple are from Estonia, Finland, Russia, Germany, Danish, Swedish and Norwegians.
In 1991, the first Russian family was sealed in the Stockholm Sweden Temple.
In the year 2000 there was a discovery made on the ground adjacent to the temple site. They found an ancient temple built between 400 BC and 400 AD! The Temple is a octagon-shaped structure built similar to the temples in Ancient Rome. Nothing similar has ever been found in Sweden or Northern Europe.