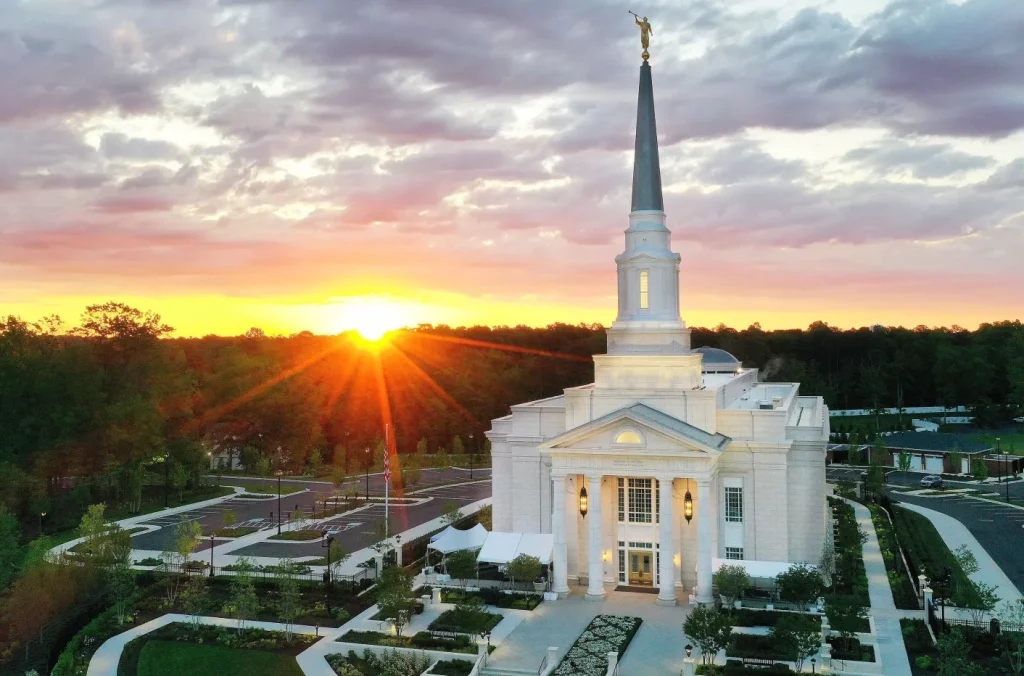 The Richmond Virginia Temple is the 177th dedicated Temple of The Church of Jesus Christ of Latter-Day Saints, and the first temple built in Virginia.
The Richmond Virginia Temple site was dedicated by only eight people, during the Covid pandemic on April 11, 2020. Days earlier the Governor of Virginia mandated for no groups, larger than 10, to gather. The Governor of Virginia gave the small group of eight permission to perform the groundbreaking, but under the condition they were not allowed to publish accounts or photographs until the Covid Pandemic was history.
One of the goal of the temple architecture is to tie in the area surrounding the temple building. In the Richmond Virginia Temple the architects have taken the legacy of Thomas Jefferson in architecture. Inspired by the University of Virginia and Thomas Jeffersons home, Monticello they used several of the same design elements of that time period.
Throughout the temple you can see the Dogwood Blossoms, Virginia's state flower. The Dogwood Flower represents strength, reliability and innocence purity.
Also, in the temple details you can see octagons representing rebirth and resurrection and diamonds representing purity, unity and love.
In the entry way of the Richmond Virginia Temple there is a beautiful stained glass depiction of the Savior Jesus Christ, that once hung in a old Protestant church on the East coast and it was refurbished and placed in the Richmond Virginia Temple.
Many members saw it fitting that there should be a temple where Thomas Jefferson famously established the bill of religious freedom:
https://www.monticello.org/research-education/thomas-jefferson-encyclopedia/virginia-statute-religious-freedom/
"This is the home of Thomas Jefferson's declaration on religious freedom and that is reflected in the community's acceptance several hundred years after that declaration," said Nichole Peterson, a local Church member.
The Richmond Virginia Temple was dedicated by Dallin H. Oaks on Sunday May 7, 2023.
Longtime member, Fred Mullins, of Virginia is thrilled to have a temple so close saying, "We were just happy to have a stake in Richmond," he said. "Now we have three stakes and a temple. ... It was a miracle to see this come to pass in my lifetime. For our members I've known all my life here, this is something they have been hoping for and praying about for the last 60 years. Now they feel so blessed and happy. It's such a joy to see it come to fruition."
More Blog Posts
Founding Fathers and the St. George Temple
First Voyage of Christopher Columbus
Philadelphia, Pennsylvania Temple Architecture
Wilford Woodruff's Birthplace Marker and Connection to the Hartford Connecticut Temple
Sources:
Church News May 7, 2023